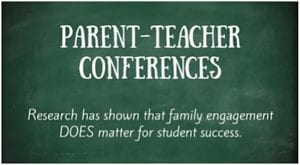 Pluses to High School Parent Conferences
Staying involved in your teen's education could ultimately influence their success. Once a child reaches high school, some parents don't see the point of attending parent-teacher conferences. "I'm not sure if it's just the kids are kind of to the point where they are more self-sufficient and independent – so parents don't necessarily think they need to – but I think it's really important that they do," says Megan Penrice, who teaches at Pottstown High School in Pennsylvania.
Penrice says that for every 60 students she teaches, probably four or five parents attend parent-teacher conferences – a much smaller turnout than when she taught elementary school. "The kids are so much younger, so the parents feel the need to be more involved in what's going on, I think," she says.  But parents of high schoolers should not discount the value of parent-teacher conferences. These meetings may ultimately influence a teen's academic success. Here are three reasons why parents should attend.
Show your child that you care: When teens know that their parents care about their education they feel more encouraged to do their best, says North Carolina mom Kassandra Watson.  "Whether your child wants you there or not, go there because you know that they do need you," says Watson, whose son Morris graduated from Heritage High School in Wake Forest last year. Watson is also the president of the Parent-Teacher-Student Association at Heritage.  "They might not voice it, but they do need you and they do appreciate you coming," she says. Penrice, the Pennsylvania teacher, finds that the students of parents who are involved and come to parent-teacher conferences are typically the students who do well in school. "Their parents are going to know early on if they are not doing well," she says. "They can't hide it real easy when the parent is involved."
Improve communication between parents and teachers: The in-person meetings can help parents put a face to a name, Penrice says, and establish a relationship. Establishing those relationships early has been important for Michigan mom of three Alison Schwartz. Her middle son William, 17, is a senior at Groves High School in Beverly Hills. Although her son is doing well in school, she still regularly attends parent-teacher conferences.
"It's just a way that the teacher kind of gets to know you," she says. "And if there are any problems in the future, you kind of feel like you know them." "If you show that you want your child to learn, you want your child to do well, then the teacher is going to work harder to make sure that happens," says Watson, the North Carolina mom.
Learn something new about your child: Parent-teacher conferences can be a time to discuss academic or behavioral issues, or give teachers the opportunity to tell parents something new about their child. "Sometimes they can give insight into an area of study that your kid maybe could improve on or books that would be useful for them," says Schwartz, the mom in Michigan. Penrice says teachers can alert parents if their child is struggling in the meetings, so that they are not blindsided when report cards come home. "They happen earlier enough on in a marking period that issues could be addressed," she says, of the date of conferences at her school. Schwartz says that she thinks teachers appreciate it when parents come to conferences. "They spend so many hours with your child," she says. "I think it is just kind of respectful to go to conferences."
By Alexandra Pannoni, Staff Writer, U.S. News and World Report