In cooperation with Mr. Schrowe – on Wednesday February 12, Ross Lesslie with the Montana Wilderness School came to the health classes to discuss who they are, what they do, and discussed opportunities for our students to get outdoors.
https://www.montanawildernessschool.org/
The mission of the Montana Wilderness School is to provide empowering expeditionary wilderness courses to youth that foster personal growth and cultivate a conservation ethic through connecting with remote landscapes and wild places.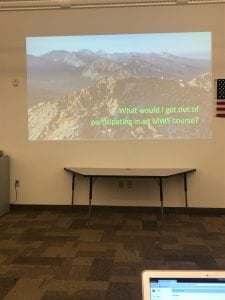 The vision of the Montana Wilderness School is to develop the highest quality expeditionary outdoor education program in the United States. We strive to serve diverse and motivated youth in communities throughout Montana. Through challenging and empowering experiences on our courses, youth will develop a deeper connection to the natural world, and will return to their communities as more skilled, confident, and compassionate leaders.