Red Lodge Schools was the recipient of an iGraduate Montana grant this past spring.  The Office of the Commissioner of Higher Education and the Office of Public Instruction, in partnership with the Dennis & Phyllis Washington Foundation, provides this grant in an effort to  increase graduation rates, develop an awareness for career and technical education as well as all college access efforts including College Application Week, FAFSA completion, and Decision Day events. By partnering with colleges and universities, and community leaders, Red Lodge High School plans to continue to expand iGraduate Montana program in our school and community by focusing on high school graduation, and expanding the scope of our program to include workforce development activities, such as connecting students to high-demand career pathways, and/or post-high school education opportunities. Our grant is designed to engage and connect students from kindergarten to graduation with careers and educational opportunities with the ultimate goal of helping every student graduate from high school and find a meaningful career afterwards. Nurturing a love for learning that connects students with future life possibilities needs to start early on in one's life. Our iGraduate Program seeks to include Career Exploration and Career Connections at the elementary level through high school, through career exploration, mentorship, character development and transitional opportunities at each level. These will be designed to  connect student learning at each level to the world of work and opportunity.  Our school-wide program focuses on three age groups: K-5 grades (START NOW), 6-8 grades (High School Matters) and 9-12 grades (iGraduate).
START NOW
Beginning in elementary school (START NOW), we held our kick off event for the Kindergarten Class of 2034.  Kindergarten students from Mountain View Elementary visited Red Lodge High School to see what the "big kids" were learning about.  They had the opportunity to visit four classroom settings where high school students taught them concepts about their curriculum in culinary arts, agriculture, carpentry and science.  Each student received a START NOW  t-shirt.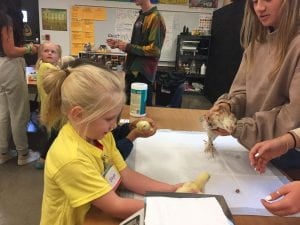 HIGH SCHOOL MATTERS
Transition to Middle School is marked by several changes in educational expectations and practices.  Our kick off event for 6th graders (Class of 2028) is called #HSM and begins in middle school where high school students talked with 6th graders about challenges of middle school and why it matters on your journey toward graduation.  During 7th and 8th grade students have an opportunity to learn about their own interests, skills, aptitudes and work values and explore careers that they might be interested in.  They are also learning about goal setting, time management and the important soft skills needed to be successful in the workplace.  Mrs. Quenzer, through the Life Skills Class is providing students the opportunity to connect with community members and learn about the world of work.
iGraduate
At the High School level our focus is connecting students to meaningful career pathways that match their skills, interests, work values and personal goals.  Our kickoff event started with freshmen orientation where students had an opportunity to make a pledge to graduate and learn what they must do to reach that goal. Our goal through the program is to help prepare students for a smooth transition into high school, create an awareness of personal strengths, interests and values, investigate interests in potential career areas as related to their identified strengths and values, introduce the requirements and opportunities available during high school and connect them through job shadowing to professionals in their interest field. It will include a Mentoring Program for at risk students through DSVS as well as teaching students how to build and maintain healthy relationships.  The high school program (iGraduate) will focus on developing a career pathway for every student, exposing students to CTE careers through our CTE Fair and Career Cafés, expanding job shadow opportunities and internships, providing parent meetings for college bound students for FAFSA Completion and College Application Week, and developing a pre-apprenticeship program in CTE areas.